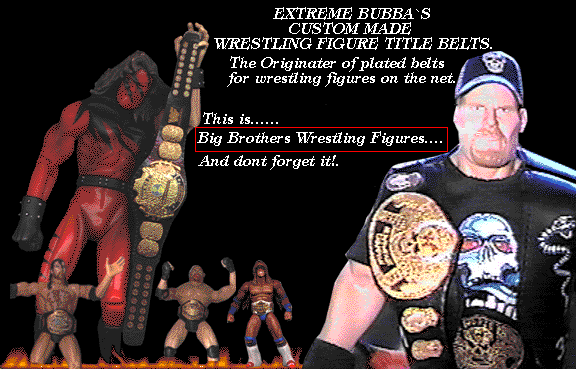 EXTREME_BUBBA@YAHOO.COM.
Welcome to Bubba`s Hand Crafted wrestling Figure Title Belts.
The Originator of(Plated)Custom figure Belts on the internet.

When it comes to making title belts for my figures, I try to make them as life like as possible, To make this possible this i have to make a belt in almost the same way as a real belt, I use real plates made from glassfibre resin(a form of plastic) and i tool them to a strap using metal threads which are embedded behind the plates and through the strap. The plates are first sculpted in sculpey, moulded, then finaly cast in glassfibre. I even put curves in the plates to they fit the figures proper. Anyway, Enough said, Lets see what ive done so far.
Heres the 4 parts to the gallerys:


PLATED BELT GALLERY: This shows all the plated belts ive made.

THE NAKED TRUTH: Some pics showing some of the plates up close just painted gold to show you what true detail the belts have.

PRINTED BELTS COATED IN CLEAR SEALER: is a collection of pics showing the printed belts i made that started lots of people on ebay.com doing the same.
Party down here!
\/
\/

---
WWF:
(12" figures)
WWF Jakks F2 Fed Fighter Smokin Skull belt.

---
(6/7" WWF figures)
Smoking Skull Belt.
WWF World attitude title(pic1)
Attitude title (pic2)
Attitude title (pic3)
WWF World title(old) Warrior White Strap..
WWF Intercontinental(old)..HBK white Strap..
WWF Tag Team Titles.
WWF European Title.


---
(7" WWF Figures)
WWF World Title(old) Black Strap..pic with RnR Kane..
CLASSIC WWF TITLE W/KANE(AROUND WAIST)
WWF World Title(old)Black Strap..pic with cust t-biz diesel..

---
WcW:
(6/7" WcW Toybiz Figures)
WcW World Tags
WcW US Title.

---
ECW:
(6" figures)
Coming very soon!.
Click Here to see "the naked truth" for a glimpse of the tags.

---
(THE NAKED TRUTH)
This Pic shows how much actual sculpted detail goes into the plates and the different kinds of sculpting, The Tag shows sculpted text, The Euro shows a blank text area for fixing decals

---
MY (NON-PLATED) PRINTED BELTS.
These are high quality prints coated in clear sealer,(It aint laminate!)
Click here to see
WWF/WCW TITLES
NWA TITLES
MY CUSTOM WWF BRAMA BULL TITLE

---
Always remember to check www.ebay.com, i sometimes auction belts there.
If you want me to notify you in advance of my auctions let me know,

HIT "BACK" ON YOUR BROWSER TO RETURN HOME,OR CONTINUE WITH THE LINKS IN THE LEFT WINDOW


CONTACT EXTREME BUBBA.
THANKS TO ALL YOU

VISITORS FOR CHECKIN OUT THE BELTS.