Contact Extreme Bubba/Q&A
Thanks for stoppin` by, hope you find some usefull tips here for your own custom figures.
Pretty soon the workshop will cover everything from re-painting to making new parts for your figures from your own moulds!,
The better i get, the better the advise gets!
But for now lets get on with our first tutorial,
Heres how to make the lod 2000 headgear as featured in our custom gallery.
Heres what you need:_

This list is aimed at someone who dont want to spend a lot on supplies, It is ideal for someone who just wants to have a go at making stuff without the expense.

---
Plaster:_ same as the stuff they put on your arm when its broken: average cost($1 per pound bag) 1 pound will do.

latex:_ a liquid that sets like flexi plastic: average cost($10 per small bottle) a bottle is all you need for this.

silly putty/modeling clay:_ same stuff as kids play with, real usefull for various prototype work: avarage cost(50c).

Acrylic paint(regular):_ the best paint to use for figures, good drying time:avarage cost($1 per bottle).

brushes:_ avoid those nasty plastic 25c brushes, They are great for applying latex but your paintwork WILL suffer if you dont get a good brush, spend at least $1 on a brush, its worth it!.

sculpt tools:_ you dont need any realy if your just practicing, plastic knives are quite good for first timers, but theres many sculpt tools available at your local art/craft stores, prices vary.
All the above items are available at your local art supplier, they also give you instructions how to mix/prepare/use them.

---
(1)CLAY SCULPT.


Start to put small amounts of silly putty onto the chosen head,
when shape is made start to fine sculpt the mask into the final shape,
more putty is added below the mask to stop the plaster dripping noto the figure.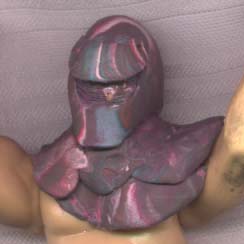 ---
(2)APPLYING THE PLASTER CAST.


When your happy with the shape of the mask, start to smooth on the plaster using your fingers.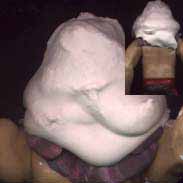 ---
THE MOULD.


then after half hour you can gently loosen the plaster and remove it from the figures head, there will be some putty still in the plaster, Just use a small plastic tool and very gently scoop out the putty.

Now your ready for the latex.


using small spare brush(cheap one that will not be used for painting), Paint the latex into the plaster mould, half hour later add another coat, 1/half later remove the mask from the mould, but sprinkle some powder type stuff like chalk/plaster scrapes to prevent the mask from sticking together inside.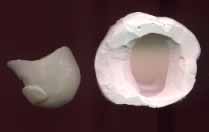 ---
FINAL HEADGEAR.
if all has gone well your ready to paint!.


I will cover painting tips pretty soon, Also i`ll give more tips and examples,


If you want to e-mail me any questions i`ll do my best to answer them,

---
Contact Extreme Bubba/Q&A

---
Also all my latest projects will be shown here.
There will also a Q&A section
See-ya!.
---
here is a link to a site that has some exellent examples and tips by the real pro`s of figure making(not wrestling though), and a cool gallery too!.
Gremlins in the garage tips.

---
HIT "BACK" ON YOUR BROWSER TO RETURN,
OR CONTINUE WITH THE LINKS IN THE LEFT WINDOW

---
THE COUNTER MONSTER SAYS